Since 2012, the Energy and Environment Foundation (EKA), in cooperation with Friends of the Earth (FoE) Hungary, has been promoting a more democratic model of energy management through its Straw Bale Housing Programme.  EKA have provided practical and theoretical trainings to more than 1000 people – some facing energy poverty and others just interested in green housing – including consumers, planners, architects, construction workers, financiers, municipalities, researchers, expert associations and environmental and social NGOs. To date, more than 50 homes have been built and various straw bale insulation and wall techniques have been standardised.
The Straw Bale Housing Programme has helped municipalities to create various social straw bale housing projects, by for example providing financial, legal, building and administrative recommendations and ideas for involving local workers and unemployed people. Now their aim is to launch more projects in cooperation with municipalities, to strengthen construction capacity, to expand their network of interest groups, and to solidify the social business structure of the programme.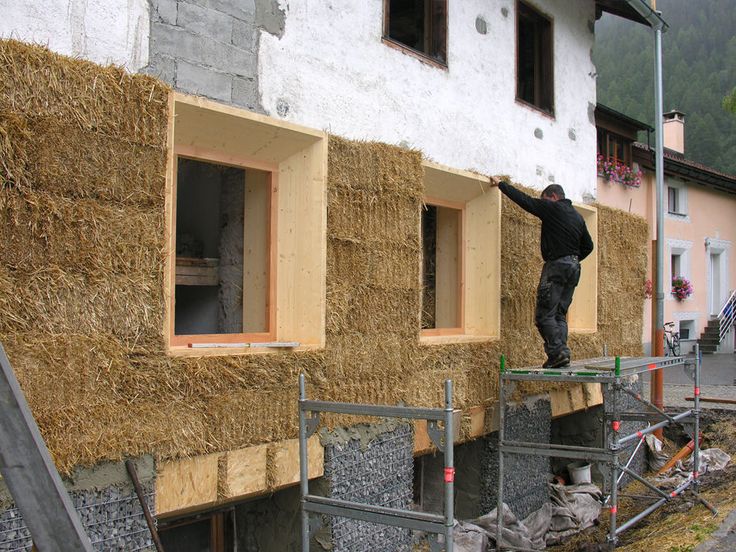 Energy poverty in Hungary
70 per cent of Hungarian homes are not properly insulated, and 40 per cent of the country's 9.5 million people live in households that can not afford proper heating or insulation. Two-thirds of these are family homes, and most of them are located in the countryside. Over the past decade there has been very limited EU funding  and other grants available for energy saving or efficiency improvements in family homes.
And although the government has claimed to address energy poverty through several general energy price cuts, these reductions have had a very limited effect on those facing energy poverty. Furthermore, these measures discourage energy efficiency investments. In the spring of 2017, the government launched an energy efficiency loan programme that is helpful for middle class households but is practically inaccessible for energy poor families without upfront capital.
Building a straw bale network
The good news is that there is a significant amount of straw bale generated each year in the Hungarian countryside. Straw bale has a small ecological footprint, it is cheap (with low costs for both installation and operation), and it has excellent insulation qualities. It is also compostable, making it an ideal, sustainable material in the fight against energy poverty. Furthermore, straw bale walls and insulation technology require local work and materials, and thus support the local economy.
EKA has developed a blueprint plan for straw bale houses that households and communities can use and adapt to their needs. It contains a range of different types of 100 m2 straw bale houses, all of which can be adapted to existing architecture and heating systems. The plan also includes a newly developed, very simple insulation technique whereby straw insulation blocks are attached to the wall by means of 'rachel' mesh and wires.
Modern straw bale houses have been built in Hungary since 2000, although the technique also makes use of traditional knowledge. Although the national political environment is not overly supportive of the method, regulations and standards do exist, and it is possible to obtain a building permit for straw bale insulation or a straw bale-walled house without running into excessive administrative hurdles. This is partly due to the efforts and advocacy of EKA, but also because the straw bale method does not (yet) compete with other insulation and building techniques.
The beauty of the straw bale approach is that it integrates environmental and social concerns by simultaneously tackling urgent energy issues and developing the local economy. The programme aims to create a network of straw bale housing communities, and in the long term an alternative building sector in Hungary that will develop the local economy and fight energy poverty.
Cooperation with municipalities
Within the framework of the EU-funded COPOWER (www.communitypower.eu) and the EUKI project (www.just-transition.info), EKA and FoE have been promoting the straw bale concept to local governments and communities and offering them collaboration and trainings. In this way, the municipality or a consortium of interest groups leads the project, with EKA and FoE playing an active role in the implementation. For example, the NGOs provide trainings for municipal workers to become straw bale construction workers and experts, and offer help in identifying and applying for financial resources for local projects (for example from EU funds, through crowdfunding or by establishing a social cooperative).
There number of progressive municipalities in Hungary interested in initiating straw bale housing programs or projects is growing. Some of these may take place within the framework of social cooperative systems, with the municipality as creator or participant and members buying shares. These social cooperatives can apply for external funding (such as EU funds), or can crowdfund for projects that benefit the public (such as straw bale insulation or walled buildings). In this model, unemployed energy poor locals join the cooperative and instead of buying shares, are retrained to insulate or build houses with straw bale. These homes may be for cooperative members (at a reduced price) or for the wider community.
Since 2012, the number of straw bale houses on Hungary has been increasing exponentially. Encouragingly, the trend is also having an effect on the country's Roma population, who often live at the outskirts of villages and are even more affected by energy poverty than the national average. In the summer of 2016, two Roma communities (one in Borsod and one in the Southern Great Plain) insulated their houses with EKA's architectural and construction expertise and the involvement of local municipalities. In the coming years, FoE Hungary plans to continue to promote EKA's straw bale techniques and trainings to interested communities and families.
Possibilities for financing
At first, straw bale project implementation was predominantly financed through NGO grants, and pressure tests for the bales were financed through crowdfunding. Currently, the income from trainings and payment from construction labour covers most of the financing needs. The simple and low-cost straw bale insulation technique can be applied by local volunteer groups, and materials cost 50 per cent less than those for conventional insulation.
In the winter of 2017, EKA and FoE Hungary launched a community programme for Borsod-Abaúj-Zemplén (BAZ) county in northeastern Hungary. The programme, which is still in the mapping and planning phase, will ideally be coordinated by municipalities or their social cooperatives and will benefit local suffering from energy poverty. BAZ county has been prioritised for the programme, as the area has high levels of energy poverty, extreme weather impacts and significant air pollution, particularly due to the burning of bad quality local lignite in inefficient household boilers. Cooperation with the strong local Roma community is also planned. All in all, BAZ communities welcome the idea of a local straw bale insulation pilot programme, and particularly if it will be co-organised by the municipality. Municipalities here are largely viewed as key community organising structures that can dedicate human resources and apply for EU funds.
Why straw bale is the future in Hungary
Straw bale housing could turn the tide in Hungary and mean the end of energy poverty for millions of people if taken up on a larger scale. The main benefits of this technique are in the following areas:
Environmental: Straw bale uses little energy throughout its entire lifecycle. It is a renewable, efficient, natural and cheap building material, and if used as insulation it can help to cut household energy use by at least 30 per cent. If we take into account the total life cycle of straw bale as insulation material, it requires 75 per cent less energy than conventional insulation such as polystyrene. Straw bale has a low carbon and ecological footprint as it emits zero to minimal emissions or pollution, and the transport costs are minimal due to the local nature of the materials.
Health: Straw bale technique uses all natural and non-toxic materials, and leads to warmer homes with better air quality, a better microclimate and excellent noise cancellation.
Social and economic: Straw bale projects strengthen local economies and stimulate local employment. This is especially true in the countryside and in smaller cities and villages that suffer from the urban flight of young people and workers seeking employment. The technique allows workers to use local materials and develop new skills, and to apply both locally. Moreover, the local community is strengthened when community organisations, volunteer groups and/or municipalities become engaged and initiate local social straw bale projects or programmes.
Energy democracy: The straw bale model cuts household energy use, and contributes to locally available energy saving measures for households and communities. With the decentralisation of decision-making, planning, implementation and funding to social businesses, cooperatives and municipalities, it may also contribute to energy democracy.
[1] Energy and Environment Foundation (EKA) is an NGO based in NE Hungary focusing on energy awareness and household energy solutions like straw bale technology.
[2] National Society of Conservationists/Friends of the Earth Hungary (NSC-FoE Hungary) is a non-profit organisation to protect nature as a whole and promote sustainable development. It has 113 member associations with almost 33,000 members across Hungary.
Resources
(Mainly in Hungarian but some summaries also in English)
https://hu-hu.facebook.com/Szalmabalaepiteszet/
https://mtvsz.hu/kozossegi_energia
https://videa.hu/tagok/energiaeskornyezet-1944429
http://mtvsz.blog.hu/2016/04/10/beindult_itthon_a_szalmabala_epiteszet
http://mtvsz.blog.hu/2015/02/05/szalmabol_otthont
http://mtvsz.blog.hu/2015/02/20/szigeteles_olcson_okosan_szalmabol_beszeljenek_a_szamok